Circular Walk – Swallowfield - 17th June 2017
Despite the holiday season, and the blistering heat, a good-sized group of about 20 intrepid walkers met at Swallowfield church for Paul's 4th walk for BVCT.  For some of us, this was a relatively unknown end of the valley except for the occasions on which we had done Walk the Path.  Having done the walk, I would say that this area is where the river Blackwater is at its loveliest. 
We walked along the river quite early in the walk and Paul showed us where the Blackwater meets the Whitewater to eventually flow into the Loddon.  Even when we left the river, it had a habit of suddenly reappearing, always a pleasant surprise.  Despite the lack of rain, the landscape was a lush green under a perfect blue sky.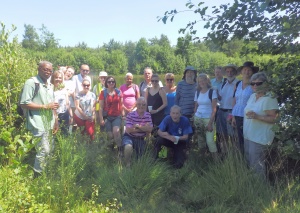 We walked through cornfields and copses.  Paul walked us along something he called 'Foxglove Alley' where there were thousands of foxgloves growing in a ditch along the path.  We also saw many beautiful wild flowers and Paul was able to identify them all.  I remember Centaury, Self-Heal, Woundwort and Viper's Bugloss, but there were many more.  We also saw red kites and a passing egret as well as swallows in one of the farm buildings we passed. At about the halfway point was the very welcome sight of Marilyn and Angus with that wheelbarrow full of cakes.  They are an essential part of the enjoyment of Paul's walk and are very much appreciated by everyone, particularly today, because it was their sapphire wedding anniversary (45 years) and still they had come to serve us tea and coffee and, on account of the heat, iced water to refill all our water bottles.
They were congratulated by everyone and I hope they enjoyed their anniversary meal in the evening.  It was lovely to be able to include them in the group photo, and to take a special photo of them to mark their special occasion.
The second half of the walk took us along the Devil's Highway and past Riseley Mill.  The river appeared yet again.  Although it was so hot, it was cooler by the river, and many of the paths, which sometimes ran between high hedges, were definitely cooler than the open countryside.  All too soon we were back at Swallowfield Church, having walked about 7½ miles.  I believe everyone really enjoyed the walk.
Thanks as usual to Paul and to backmarker Mike.